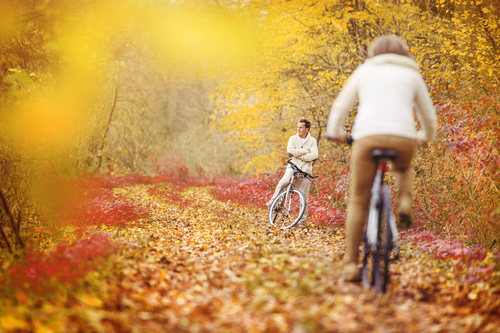 At the age of 48, Linda Benson, a physical therapist, was suffering from chronic back pain stemming from a 20-year old back injury.
"About 80% of the time I was in pain from waking till going to bed and it was even keeping me awake at night," she explains. "I would have episodes of spasms where I would be unable to work for several days and would have to have physical therapy to get the spasms out and bring the pain back down to a tolerable level. There were times I was forced to use different medications, muscle relaxers and pain pills just to manage the pain."  She was forced to give up downhill skiing, waterskiing, soccer and other activities that were so much part of her life.
In a 5-hour operation, Dr. Thapar carried out a lumbar fusion at the L4-L5 level of Linda's spine. The disc at that level had badly deteriorated, so he cleaned out the disc matter, placed a cage between the two vertebrae, filled it with bone material ,and secured everything with two metal rods and four screws.
"From before the surgery Dr. Thapar was very thorough with his exam, his diagnostics, his use of the MRI and the CT scan. I really appreciated how he would pull up the MRI results right on his computer and go over all the details with my husband and me, explaining what was going on in my back, what he thought would be a good idea for the surgery, what his plan was, how he was going to go in, how he was going to approach it and just everything I should expect before during and after the surgery. During the surgery itself he was right there; he came in and talked to me before the surgery, he was there after the surgery, and checked in on me more than once when I was at the hospital, which was less than three days. And again, he pulled up the films after the surgery had been completed, to show me what he had done on my back, how things looked, what I should expect and what kind of things I should and shouldn't be doing right away. About 11 weeks after the surgery, I met with him and got the OK to resume pretty much normal activity."
"Now I am pain free. I am up and doing. I haven't been water skiing yet but only because of the weather. The operation was in mid January and I was off my restrictions in April. I spent the summer walking and biking. I'm lifting and down on the floor playing with children as part of my physical therapy program at work. I can ride in a car again without pain. I used to be in pain within about 30 minutes of sitting in any position. Now I can relax and sit. No medications, no therapy, no more steroid injections that I used to do when things would get bad before the surgery.
"I'm very grateful to Dr. Thapar for helping me get my life back to a much more enjoyable state. When people ask, 'How's your back and who did it?' I'm always telling them Dr. Thapar – he is the best."