About Dr. Thapar and Our Team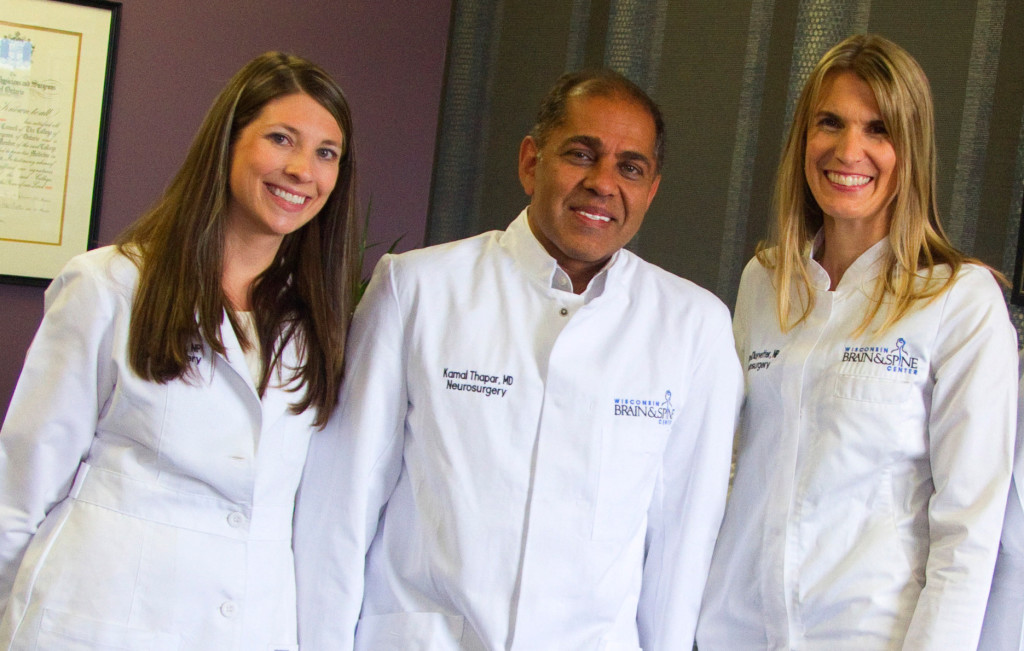 When confronted with the realization that you may be suffering from a neurological problem, particularly one that may require surgical treatment, there is an understandable amount of apprehension, uncertainty, and fear that naturally accompanies the diagnosis, for the patient and his or her family.
At Thapar Neurosurgery, we have assembled a team of dedicated, caring and compassionate professionals whose single purpose is to help shepherd you and your family though any neurosurgical challenge that you may face. Beyond providing you with the highest quality, most advanced and individualized neurosurgical care for conditions of the spine and brain, our professional, caring team will give you the confidence and courage to face any neurosurgical condition and treatment. Our goal is to make the patient's experience the best it can be. When you need us, we are all there for you.
DR. KAMAL THAPAR, MD., PhD., FRCSC., FAANS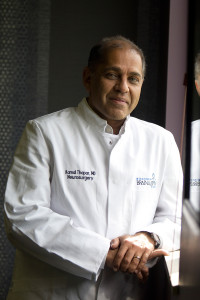 Widely respected by patients, their families, and their doctors, Dr. Kamal Thapar has served the region for more than a decade. He maintains one of the largest private neurosurgical practices in Wisconsin, and provides the full spectrum of advanced neurosurgical care.
Specializing in minimally invasive and reconstructive spine surgery, brain tumor surgery, pituitary tumor surgery, and skull base surgery, Dr. Thapar and his team strive to provide a level of care that is second to none for one fundamental reason: because you are second to none.
Making One of the Most Important Decisions for You and Your Family
Patients are confronted by many healthcare choices…. But when searching for a neurosurgeon to whom you will entrust your care, there are several important qualities that all patients should specifically seek in their surgeon:
Advanced training
Knowledge and Peer Recognition
Mastery and experience with the most current and advanced surgical techniques
Authenticity and genuine patient concern
Advanced Training
Raised in Canada, Dr. Thapar attended medical school at the University of Calgary. This would be followed by 15 years of post-doctoral neurosurgical training at some of the leading medical institutions in the world. Beginning with an internship at the University of Southern California Los Angeles County Medical Center, he then completed a clinical and research fellowship in epilepsy surgery at Yale University School of Medicine. This was followed by a neurosurgical residency at the University of Toronto, one of the most prestigious neurosurgery programs in the world. While there, he was a graduate of the Surgeon Scientist program where he also earned a PhD in the field of pituitary tumor molecular biology. He completed three subspecialty fellowships, including a skull base surgery fellowship at the University of Toronto, a pituitary tumor and epilepsy surgery fellowship at the University of Erlangen-Nürnberg, Germany, and a pituitary tumor and neuroendocrinology fellowship at the University of Virginia. He then returned to the University of Toronto as an assistant professor of neurosurgery.
Knowledge and Peer Recognition
Dr. Thapar has published extensively in the international peer reviewed neurosurgical literature. This includes 24 scientific articles of his original neurosurgical research, 12 invited reviews, 31 book chapters in neurosurgical textbooks, as well as editing a neurosurgical textbook.
In addition, he has been an invited speaker at numerous neurosurgical meetings throughout North America, Europe, and Japan. He has received numerous neurosurgical awards, including being named the 1998 William P. Van Wagenen Fellow by the American Association of Neurological Surgeons, the most prestigious fellowship awarded to any graduating neurosurgeon in North America. Under this fellowship he trained with and practiced under master neurosurgeons in Germany in the areas of pituitary tumors, epilepsy surgery, skull base surgery and image-guided neurosurgery.
Among other distinctions, he was the recipient of the Young Neurosurgeons Award by the World Federation of Neurosurgical Societies (1997); Canadian National Research Award for Specialty Residents from the Royal College of Physicians and Surgeons of Canada & the Canadian Society for Clinical Investigation (1997); Detweiler Traveling Scholar in Surgery, Royal College of Physicians and Surgeons of Canada (2000); McLaughlin Scholar in Surgery (2000); and the Bernard Langer Surgeon Scientist Award (2002).
Mastery and Experience With the Most Current and Advanced Surgical Techniques
It is well recognized that the outcome of any surgical procedure is highly dependent on the experience of the surgeon and the number of procedures he/she regularly performs.
For over a decade, Dr. Thapar has averaged between 300-400 major neurosurgical procedures annually, ones that encompass the full spectrum of spinal and cranial neurosurgery.
With today's accelerated technological advances, neurosurgical techniques and technologies continue to evolve at unprecedented levels, making it a necessity to continuously increase one's knowledge and put these new discoveries into practice — something Dr. Thapar and his practice is widely known for. This involves ongoing training throughout the world. As an active member of the American Association of Neurological Surgeons, the Congress of Neurosurgeons, the North American Spine Society and the Royal College of Physicians and Surgeons of Canada, as well as his collaboration with instrumentation manufacturers/developers and industry, Dr. Thapar routinely visits other neurosurgical experts to acquire new skills and bring back the most advanced procedures so each and every patient benefits from the most current and advanced techniques available anywhere.
Authenticity and Genuine Patient Concern
A trademark of Dr. Thapar is his compassion, care, and interest in the lives of his patients. His approach is simple — he is not treating a condition; he is treating a patient who has a life, a family, dreams and aspirations.
In 2002 Dr. Thapar was chosen and recruited by Sacred Heart Hospital and Marshfield Clinic in Eau Claire, Wisconsin, to lead their neurosurgery program. For almost a decade, he served as the Chairman of Tertiary Care Services at Sacred Heart Hospital, Medical Director of Neurosurgery, as well as Neurosciences Section Chair at the Marshfield Clinic. He was recognized as a Red Cross Hero in 2008 for the compassion with which he cared for patients. He has lectured regularly to various audiences throughout the region, including high school students, university students, nursing students, business leaders, and at other public forums on the importance of service to others.
His patients regularly comment on the distinct care and personal attention he and his team provide from the very first visit and throughout the continuum of care. Many will speak of how they felt safe and cared for, that their personal welfare was of major importance to him, that they were treated with respect, and that he cared very much for the success of his treatment of them and the resulting changes and improvements it brought about in their lives.
These are the qualities you can look forward to: Precision, competence and expertise in his procedures with an overriding care for you, your life and the concerns of your family.
JOLENE DHUYVETTER, RN, MSN, APNP, Nurse Practitioner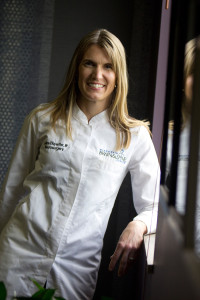 Jolene D'Huyvetter is a fully qualified and highly regarded nurse practitioner and a key member of Dr. Thapar's team, assisting Dr. Thapar in surgery, attending to patients in the clinic, doing patient visits, and helping with hospital consults.
Jolene gained a Bachelor's of Science in Nursing at Viterbo University in LaCrosse, Wisconsin and went on to obtain a Masters of Science in Nursing with specialization as a Family Nurse Practitioner at the University of Wisconsin – Eau Claire. She has extensive experience in medical/surgical, emergency room, and critical care nursing. For the past 11 years, Jolene has been directly assisting Dr. Thapar in all aspects of neurosurgical care. "I work with a magnificent team of people, each of whom inherently care deeply about the patients, and is constantly striving to provide the highest level of care possible, " says Jolene of her work with Thapar Neurosurgery. "Working on Dr. Thapar's team is different than any other nursing job," she adds. " Dr. Thapar has created a very cohesive and enjoyable work environment that is very rewarding. He views every staff member as important and essential in caring for patients and he insists that all patients receive the best possible care, with no exceptions. My priority is to ensure that we deliver the best possible care by creating a trusting and confident relationship with patients and families all in the objective of helping them get the quality of their lives back."
KATIE KING, RN, MSN, APNP, Nurse Practitioner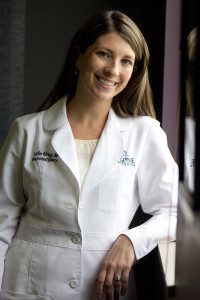 Katie King is a uniquely qualified, experienced, caring nurse practitioner on Dr. Thapar's neurosurgery team.
Katie's duties consist of attending to patients at the clinic, doing hospital rounds and consults, and assisting with referrals and scheduling. When patients call the office, it is usually Katie who takes the call, answers their questions and rapidly and efficiently helps them with their specific needs.
Katie received her Bachelor of Science in Nursing from the University of Wisconsin – Eau Claire. She began her nursing career with two years as  a nurse in the neurosciences unit at Sacred Heart Hospital in 2007 caring for many patients following spinal procedures. From there, she moved on to operating room duties with a primary focus on neurosurgery, spending three years as the Neurosurgery Team Leader at the hospital. Katie continued her education at Saint Joseph's College of Maine where she attained her Masters of Sciences in Nursing degree with specialization as a Family Nurse Practitioner in 2014.
Katie's training and experience in neurosciences, neurosurgery, and family nursing, combined with dedication for helping Dr. Thapar's patients overcome their challenging conditions and return to a normal, pain-free life make her an invaluable member of the team. "Working in Dr. Thapar's pracitice is not only a career; it is something deep inside of us that pushes us to help others," she says. "We strive to demonstrate integrity, dignity, and respect to our patients and their families. We have the privilege of helping people return to a life without pain."